The term "shelter-in-place" is easier on the ears than "quarantine," but it doesn't change the reality of your situation during a pandemic. Indeed, whether you're working from home or not, the feeling of being cooped up inside can become tiring and overwhelming.  
At the moment, COVID-19 restrictions are easing around the world, but the coronavirus could return with a vengeance later in the year. When that happens, you would want to be prepared with the right kind of smart home automation technology – which can also make your life easier during a quarantine. Here are three ways smart home tech can help during a pandemic:
Doorbell Cameras and Close-Captioned Video for Deliveries
Amazon, grocery delivery services, and Uber Eats can deliver all of life's necessities to your door during the pandemic. This allows you to stay away from crowded places like grocery stores where you could inadvertently contract or transmit coronavirus. Writing for the Atlantic, Joe Pinsker offers the following perspective:
"Whatever food choices you end up making, it's important to follow the pandemic eating commandments that many journalists (including my colleague Amanda Mull) and public-health experts have already laid out: Don't shop at a crowded grocery store; have a shopping list and don't browse; ask delivery people to leave food on your doorstep (and not hand it off to you)."
Still, even when you get deliveries, you might have to interact with the delivery driver. This is where smart doorbell cams or smart close-captioned video can help. These monitoring systems allow you to keep an eye on your door to know when deliveries arrive. With a few special instructions, you can tell the delivery person to simply leave the items at your door and refrain from touching the doorbell. Allowing you to receive deliveries without the risk of interacting with someone from outside your home. PointCentral smart home systems use the Alarm.com SkyBell Slimline Doorbell Cam, which offers an 88-degree field of view and advanced night vision technology. Here's an image of a SkyBell Slimline Doorbell Cam: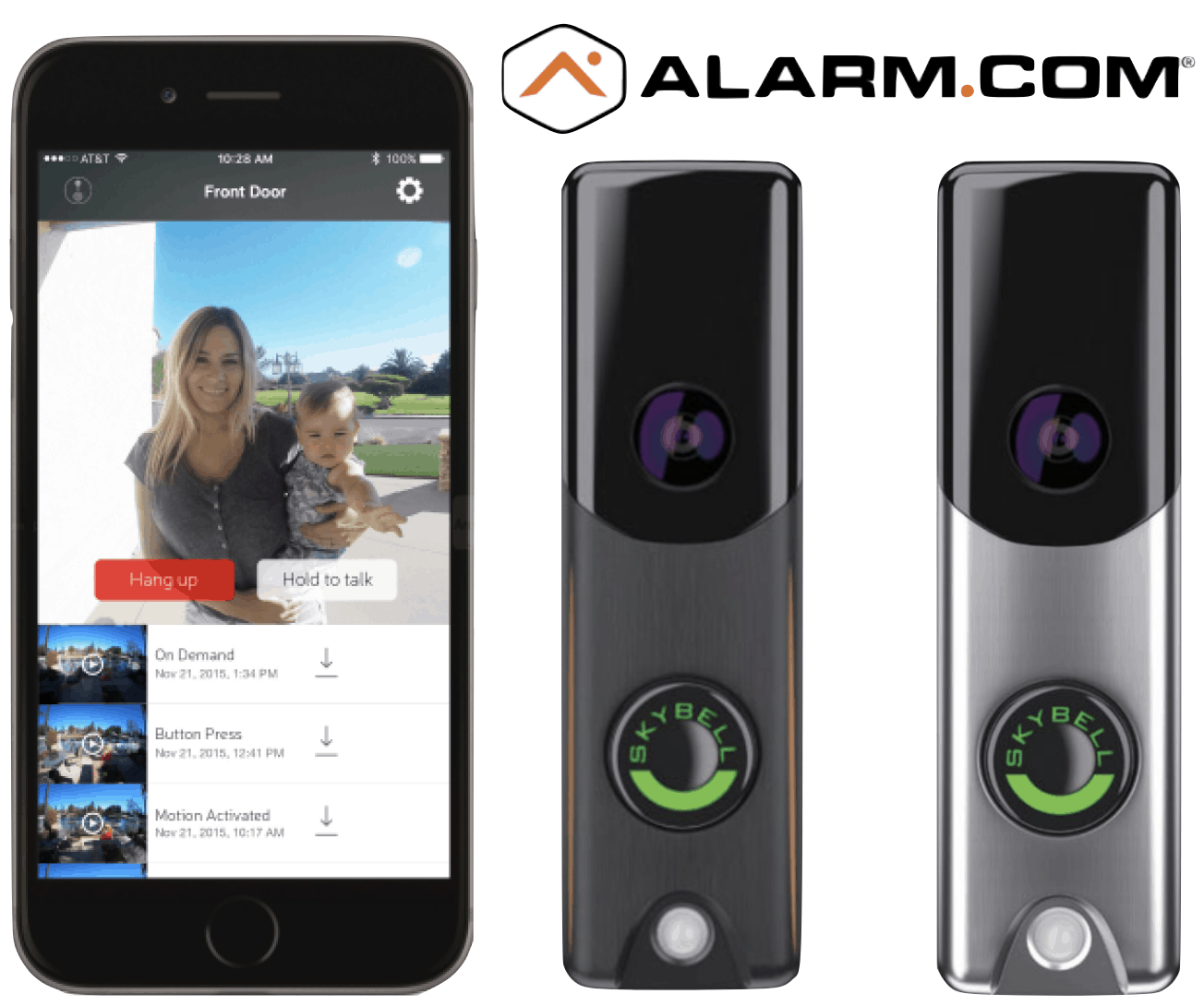 Smart Home Movie Routines 
Movie theaters are particularly dangerous in pandemic situations, as Designer AV points out:
"Cinemas, by their very nature, are perfect for the transmission of infectious diseases; hundreds of people all sitting together in the same room for a couple of hours. Even if it's a single person that is sick with Covid-19, because of the high communicability rate of the virus, there's a good chance dozens more will catch it by the time the credits roll."
Even if the local theater is open, you might want to stay home while COVID-19 threatens our health. Ever the more reason to create a home theater experience that rivals what you get at the cinema. Even if you don't have a designated "theater room," you can create a smart routine to set the stage for movie night with a simple voice command. Call out the command, "Movie Time," and your smart lighting system will automatically dim the lights. Your television and surround sound speakers will activate, and all you need to complete the experience is a bowl of popcorn.  
At PointCentral, we love helping customers design custom smart routines that make full use of the technology we provide. Contact one of our smart home assistants, and we'll tell you how our technology can help you achieve your smart theater goals. Once you're cozy with the popcorn, you'll wonder why you ever left the house to go to a public theater. 
Smart Lighting Routines to Keep You on Track
Even when you're not doing a shelter-in-place movie night, a smart lighting system allows you to schedule your days (and moods) with automated lighting routines. Wake up when the lights come on. Wind down at the end of the day with an auto-dimming ambiance. A smart lighting schedule can give your days a better sense of structure and keep you on track. Here's a sample routine:
5 a.m. —

Lights slowly brighten in the bedroom and the automatic coffee maker churns out your morning brew. The home entertainment system plays your favorite morning mood music. You drink your coffee, take a shower, brush your teeth, and get jazzed up for the day.

9 a.m. —

The lights start blinking, and your smart shades open to let more light into the house. It's time to work if you're a work-from-home person. Or, maybe it's time to exercise, and the blinking reminds you to go for a daily run. 

12 p.m. —

Lunchtime! The music and lighting shift because it's time for a lunch break. Your pre-scheduled lunch order went through at 11:30 a.m., and it's about to arrive at your door.

3 p.m. —

The lights start blinking because it's time for a coffee break. The automatic coffee machine spits out another cup of coffee that you enjoy while catching up on social media. 

5 p.m. —

The lights in your home office turn off. It's time to stop working and enjoy some much-deserved downtime. Do some exercise, start cooking dinner, or enjoy whatever leisure activities like after finishing a workday. 

9 p.m. —

It's time to start winding down your day. The lights dim and you're ready for bed. 
Smart Thermostat for a Lower Electricity Bill
Most families turn down the air conditioning and heating when they're at work and school – but during a global pandemic, your continual time at home will cause you to consume more electricity. A smart thermostat system can bring down your electricity costs by managing your HVAC system more efficiently. PointCentral's Smart Thermostats allows you to put temperature sensors in different rooms for more consistent, and more cost-effective heating and cooling throughout the house.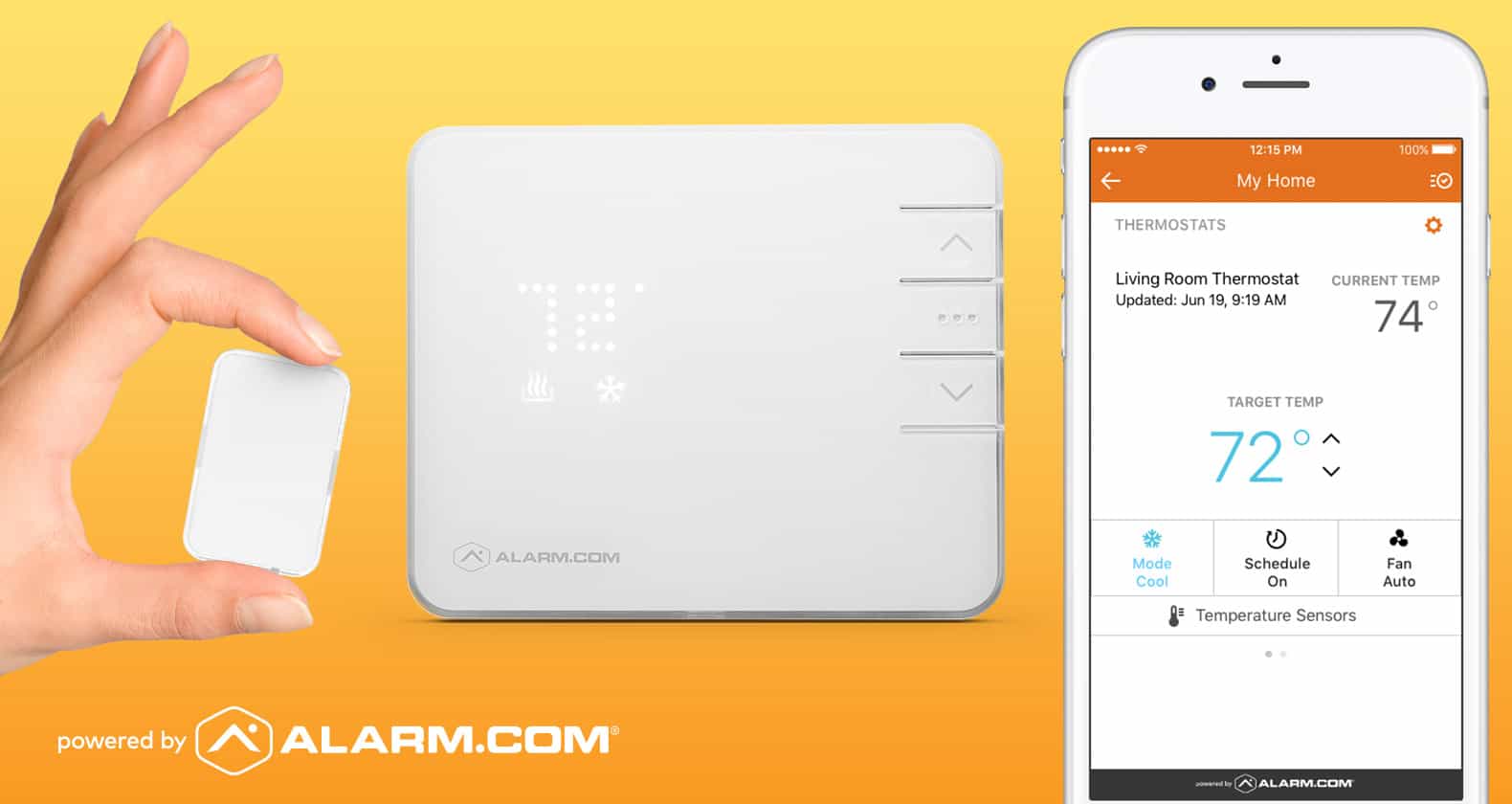 PointCentral: Making Life More Comfortable When You're Stuck at Home
At PointCentral, making your life easier and more comfortable through smart home technology is our passion. With more families spending time at home due to COVID-19, we want to help you develop the tech home of your dream — so you can make the most of your time at home. Contact the PointCentral team, and we'll show you how to achieve your smart home goals today.