Owning a vacation home is the dream of many and the realization of few. But these days—with services like HomeAway and Airbnb—owning a vacation home is more than just a luxury: it's a business opportunity.
Renting your vacation property can produce a lucrative auxiliary income, but just like any business entrepreneur, if you want to be competitive and provide the highest level of service, you need to stay on top of the trends. To do that, you need to understand the trends, and learn how technology can help you get a leg up on the competition.
Trend #1: Vacation Rental Homes Are Replacing Hotels
It used to take hundreds of thousands of dollars—or millions—to start a hotel. But now, any homeowner, or even apartment dwellers, can transform their residences into mini hotels in a heartbeat. Not only that, but they're doing it at such competitive prices that mom-and-pop vacation rental owners are carving out a massive chunk of hotel industry profits.
Statistics from SecondMeasure show that Airbnb generated more sales than Hilton in 2018. Moreover, combined sales figures from Airbnb and HomeAway dominated 30% of the hotel industry's U.S. market share.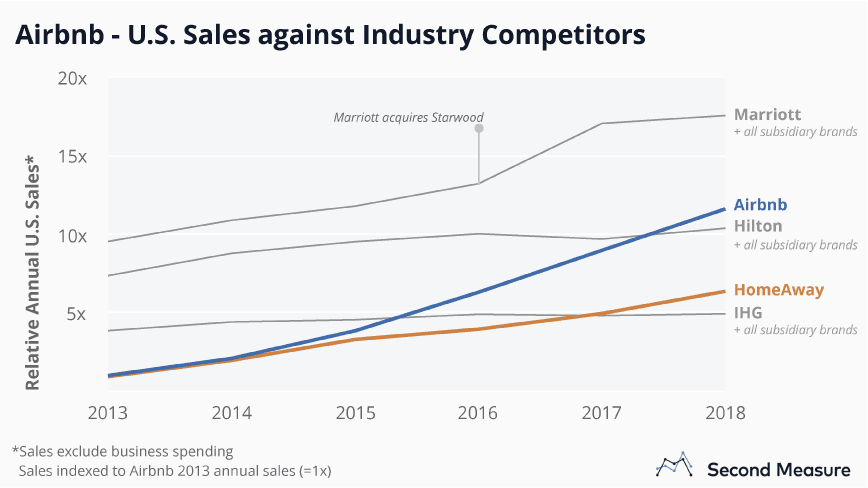 Image source: Secondmeasure.com
Do these statistics signal the death of hotels? Probably not. Some travelers will always want to get pampered at a nice hotel. Plus, many hotels are stepping up their game in response to the competition.
Trend #2: Hotels Are Pushing Back Against Vacation Rental Home Owners
With every neighborhood chock full of potential guesthouses, the old-school hotel industry is feeling the pinch, so much so that hotel lobbyists have been pressuring municipalities to enact new laws to try and stop the vacation home rental trend. Also, hotel chains around the world are making profound changes to compete with peer-to-peer home sharing networks.
Here are a few improvements hotel visitors might notice in 2019 and beyond as hotels try to compete with peer-to-peer home-sharing networks:
Consistently-better service and amenities:

This is the most effective area in which a large hotel group can compete with vacation property renters. Guests can rely on certain hotel brands to consistently offer clean, luxurious rooms and impeccable customer service.

Live music and other entertainment offerings:

Many hotels are using their bars and entertainment halls to entice guests with free entertainment.

Apartment-style options with mini kitchens and other amenities:

Various hotel groups, like Marriott with its Element brand, are featuring kitchens and other homestyle amenities in their hotel rooms.  

Incorporating a more local and community feel:

Many hotels are hiring local artists to give a local feel to their properties. They're also building more bars and cafes into their facilities, so guests can socialize and feel a sense of community.
How Vacation Rental Home Owners Are Using Smart Technology to Stay Competitive
As more homeowners offer their residences to short-term guests—and as hotel chains ramp up the competition—it's essential for vacation rental owners to stand out from the pack. In 2019, smart home automation is one of the best ways to do this.
Smart home automation helps vacation rental homeowners manage their properties more efficiently and provide a better, safer and more convenient experience to guests. Here are some of the ways PointCentral smart home automation is helping vacation rental home owners achieve these goals:
Keyless entry systems:

Routinely meeting guests to give them their keys is a significant challenge of being a vacation rental owner. Through smart home automation, you can provide your guests with full access to your property remotely, with no face-to-face meeting required.

Lower energy bills:

PointCentral's smart HVAC systems, smart thermostats, smart shades, smart fans, smart ventilation, smart lighting and other features give vacation homeowners full control of HVAC-related and other energy costs. These systems use artificial intelligence to find the optimum settings for properties, and they allow you to change the settings no matter where you are in the world.

Improved safety:

Keyless smart locks automatically change the access code each time a guest leaves, offering increased safety. In addition,  exterior cameras and doorbell cameras let you monitor who is entering and exiting your property. Finally, if someone trips the burglar alarm, smart security systems notify you, give you remote access to security cameras and call police automatically.
PointCentral: Automating Vacation Rental Home Ownership
In 2019 and beyond, it's clear that mom-and-pop vacation home owners will be both putting a serious dent in the bottom lines of legacy hotel brands, and creating a lucrative source of auxiliary income for themselves. However, if you want to stay competitive in the vacation rental space, you will need to overcome the "pushback" from hotels and competition from your fellow vacation rental owners.
At PointCentral, we'll give you a leg up on the competition. Through smart-home automation, you'll be able to provide safer, more convenient services to your short-term rentals—all while saving time and money. Contact us to find out how smart-home automation can boost the profits of your vacation rental business.
Biography
Fascinated by emerging technologies and the laws and market trends that follow them, Jeremy Hillpot's background in consumer fraud litigation and technology provides a unique perspective on a vast array of topics including smart technology, investments, startups, cryptocurrencies and the law. Contact Jeremy at legalwritingFINRA.com or jhillpot@legalwritingFINRA.com.