Noise is a not-so-silent but often forgotten threat to property managers. How so? Noise issues like parties can damage your property and reputation, resulting in hefty and unexpected costs. That's why we designed the Smart Noise Monitor™ to support property managers in navigating and reducing these risks.
Let's dive into some real-life scenarios to help you understand how the Smart Noise Monitor can benefit a business like yours.
5 benefits of our noise monitoring technology in short-term rentals
1. Easy-to-install and manage
CTO of Creekwood Vacations, Grant Lutz, found the device "very easy to install and add to properties. Straightforward monitoring and detailed without being confusing. We love that they plug into the outlet so we don't need to charge these frequently like other noise monitoring we've tested."
With a plug-and-play solution, Grant was able to add an extra layer of protection to his short-term rentals almost instantly. He doesn't have to worry about the device running out of battery and can fully trust the reliability of the tech to inform him of any noise issues before they escalate at all times.
2. Enables you to stay aware and be proactive, from anywhere
Newman-Dailey Resort Properties Inc's Manager, Kerbi Ancona, explained, "With the noise monitor in place at one of our properties, we were able to overcome a potential problem by being notified of the noise level. It recognized it and enabled us to speak with the guest."
Noise problems can threaten your business, reputation, and property, but with monitoring technology installed inside your short-term rental, you'll be able to quickly put a stop to these problems before they have the chance to cause damage. This is not only true for unsolicited parties but for more serious matters like break-ins to your property.
The tech doesn't monitor or record conversations, it solely measures decibel levels. So, anytime a noise threshold is reached, a property manager, like Kerbi, is alerted through the PointCentral platform. Once aware, the property manager can contact the guest to find out the root of the problem or alert authorities of a burglary. An added benefit is that the devices can be set to individual thresholds based on local law or preference.

3. Protects your business
Not every guest is going to be a great guest. Even those who pass your security and validation checks may break the rules. So let's imagine your short-term rental guest decides to invite extra people over. Soon the gathering turns unruly and loud, which disturbs your neighbors. You're not based near the accommodation so you aren't informed of the party until you receive complaints the following day. Now, you've upset your community and may possibly receive a hefty fine for a noise violation.
You can drastically reduce these risks by installing a proactive noise prevention system, which enables you to quickly and remotely react to rises in noise levels at your property – before they become costly and damaging. This aspect is also hugely beneficial for when the property is vacant, leaving it vulnerable to break-ins and theft, as noise will quickly alert you to the issue.
4. Makes you efficient with a centralized platform
Grant Lutz, CTO of Creekwood Vacations, told us he's "very excited to add yet another piece of PointCentral tech to the dashboard and keep our properties eyes and ears on one platform."
Grant is able to access all his property needs in one place, as the Smart Noise Monitor's data and notifications are integrated into the same platform he uses to control property energy usage, smart thermostats, HVAC maintenance, and water risks.
5. Provides peace of mind for you and the guest
Imagine a guest notices the noise monitoring product in your property and begins to worry about their privacy. When they contact you to express these concerns, you can reassure them that the device prioritizes their privacy as no audio is monitored or recorded; the device simply measures decibel levels only.
What's more, you don't need to worry if the WiFi goes down. The noise prevention device uses Z-wave connectivity and a cellular hub, so you won't miss any alerts in case of WiFi issues.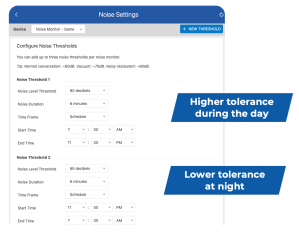 The Smart Noise Monitor empowers you to be proactive, giving you ample time to diffuse a situation before it has the chance to damage your property, reputation, or business. With a plug-and-play solution, managers are equipped to face issues and protect their short-term rental business quickly, while ensuring guest stays are 100% privacy-safe.
If you're interested in finding out more about PointCentral's new Smart Noise Monitor, check out our product page here.