Here at PointCentral we know that for a business to stay ahead of the curve, it must be open to continually improving its offering. This is especially true for our fast-paced multifamily rental sector! 
There are a few ways to achieve this: keeping a finger on the pulse of the industry, watching (and implementing) technology trends, plus hearing directly from leaders in the space. 
With this in mind, we recently attended the largest multifamily rental tradeshow of the year: Apartmentalize in San Diego, from June 22-24, where we gained insight from the thought leaders and the trendsetters of proptech. And, true to its reputation, San Diego greeted us with a beautifully sunny climate, with the weather reaching 77 degrees each day of the conference. 
Top 3 takeaways from the biggest industry trade show of the year
Learning 1: Streamlining operations is more important than ever
Although record-breaking demand points toward a profitable extended season for multifamily property managers, competition is quickly lining up to cash in on this opportunity. So, don't take the rush of home movers for granted; instead, guarantee an increased ROI by streamlining your operations in the year ahead. 
Luckily, smart home technology such as direct entry systems, smart thermostats, and monitoring sensors are revolutionizing previously time-consuming processes in property management. And with this powerhouse of tools in your back pocket, you'll be equipped to reduce unnecessary spending and maximize returns.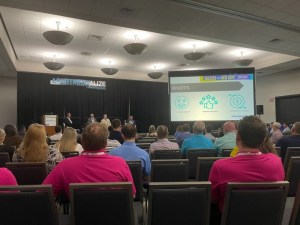 Smart home technology has shifted from the luxury amenity it once was to the necessary feature residents now expect as standard. According to Chris Acker, Demetrios Barnes, Alex Cuenca, Bevan White on "A smart home trilogy to optimize operations and teams" there are three key proptech amenities property managers should be leveraging to maintain and even boost occupancy levels: water sensors, smart thermostats, and smart locks.
With these tech amenities in your rentals, you could benefit from increased satisfaction from on-site staff and residents, boosted resident enthusiasm, and the opportunity to charge $30-$40 more per month. 
During the "Proptech empowering and evolving teams" session, it was clear how much longevity matters to property managers, especially regarding tech integrations. Demetrios Barnes, Cindy Clare and Kristen Fuechslin discussed this in length, stating how property managers don't want to be taking two steps back when partnered companies sell within a year. 
At PointCentral, we have 20 years of experience in the smart home industry, which is why we're backed by ADC. 
The rapid acceleration of proptech within the multifamily landscape was highlighted and how it provides property managers with the tools they need to streamline operations. This is especially relevant now when staffing shortages are such a huge concern. Take Self-Guided Tours, for example. This tech-powered process allows property managers to offer tours on Sundays or later in the evenings when they would otherwise be closed, as a leasing agent is not required on-site.  
"Technology should not replace personal connection, but enhance it."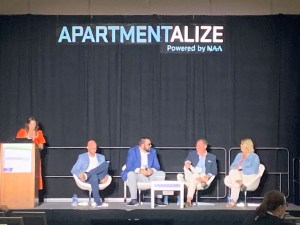 In "The changing rules of operational efficiency to achieve more satisfaction", Ian Bingham, Gregory Mark, Joe Summers, and Stacy Wells deep-dived into the inefficiencies of property management processes and how these can be overcome.  
The crucial balance between centralization and human touch was discussed. During COVID, when safety was at the forefront of everyone's mind, centralization took over, leaving little room for a personalized customer touch. 
Now, two years on, companies are introducing "back to basics" classes to support on-site teams in reintroducing these personalized touches to the service they provide. 
Learning 2: Touchless tech is here to stay
You're likely fed up hearing about COVID, but you can't deny its impact on every part of our industry. And even now, things are "normalizing" there are aspects of rental housing and technology that will never be the same again because we have discovered a better way of doing things. 
Touchless tech became the necessary amenity during a time of high infection awareness. Managers who failed to implement these measures were left behind, where properties that upped their game with proptech initiatives thrived. 
Learning 3: Self-Guided Tours are the future of leasing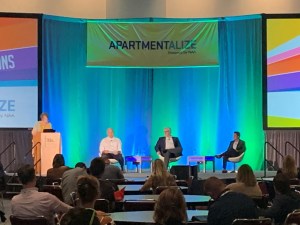 Thursday's session, "The future of leasing in a new tech reality", included speakers – John Helm, Scott Moore, and Scott Wesson – delving into the specifics of self-leasing and how it has changed the way the industry approaches multifamily resident acquisition. 
They discussed the innovations that have enabled this shift from the "old ways" of touring to the new, contactless, and seamless viewing option: Self-Guided Tours. 
Property managers implementing this innovation have benefited from more efficient rental touring. Previously, leasing managers scheduled guided tours for hour-long viewing slots in which they'd show prospective residents every aspect of the unit and building. 
Now, with Self-Guided Tours, prospective residents only look at the property features they're interested in (whether that be the pool, gym, parking, closest space, or appliances). This reduces viewing to 20 minutes, meaning property managers can schedule more daily tours.
Self-Guided Tours are powered by a toolbox of connected tech innovations, including Community Access, property automation platforms, and communication systems. The feature allows property managers to add more options when it comes to vacant unit tours and makes it effortless for prospective residents to tour the property when it's convenient for them. 
What's more, with these added automation solutions property managers may be able to increase leasing rates as smart home technology is highly demanded by prospective guests.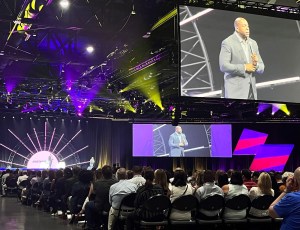 We also caught the keynote speech from Magic Johnson – did you know he once owned 125 Starbucks and was instrumental in introducing the chain to the inner city? We didn't, until now!
Everything we learned from industry leaders and trendsetters in the multifamily property space points towards a positive future for the sector. And, for property managers keeping an open mind to new automated tech innovations on the scene, the future is even brighter. 
Want to know more about Self-Guided Tours, touchless tech, or operational streamlining? Click here.