In the past year, we've accomplished a great deal together. From new partnerships with leading property management systems, enhancements that make our platform reliable, scalable, and intuitive, to providing flexibility with more hardware options. 
In this end of year edition, we've rounded up our top releases, features, and updates, made possible not just by our team but our valuable customer feedback.

Read on for a year in review of what's new at PointCentral.
An Intuitive Platform Built to Grow with Your Business 
We continue to ensure the PointCentral platform is intuitive by refreshing the most-used pages like the Enterprise Edit Location page that our customers rely on to edit info about their properties. Along with a friendly user experience, we've added scale that supports our large customers and those who are growing their portfolios. With enterprise-scale management, customers can now group and manage their properties to fit with how their business is organized. 
"The user experience of our team, guests, owners and vendors has been a huge success and the feedback has set us apart from other property managers in our market." – Lilmar Properties
Self-guided tours continue to grow in popularity with prospects and property staff. Our 2021 Persona Customer Research Study found that 72% of renters were very interested in doing self-guided tours, and 70% of multifamily managers and owners said they wanted to offer the service.
This year, we upgraded our Self-Guided Tours solution (formerly known as Unattended Showing) to give property managers more control over customizing the self-guided tour scheduling experience and to gain insight into performance with reporting. 
Water Damage Protection: New Alarm.com Water Sensor
Water damage costs can go up into 1000's of dollars per year per rental unit. To help customers take a more proactive approach, we continue to invest in water management solutions like the new wireless and compact Alarm.com water sensor. This sensor is equipped with the latest Z-Wave technology such as SmartStart and S2. These techy specs help make installs more efficient and enhance the security and reliability of the sensor so managers can count on them to detect and alert them of any leaks. 
Awareness and Energy Savings: Climax Door/Window Sensors
Speaking of sensors, we also added a popular brand of door and window sensors to our hardware ecosystem. The Climax sensors help property managers stay aware of what's happening at their vacant properties with real-time activity tracking in PointCentral, and notifications when windows and doors are opened. When paired with our Smart Thermostat, managers and owners can also reduce energy costs by setting up rules such as when the patio door is left open for more than 5 minutes, the thermostat automatically adjusts the temperature for energy-savings. 
The Latest Smart Locks: Yale 700 Series, Coastal Grade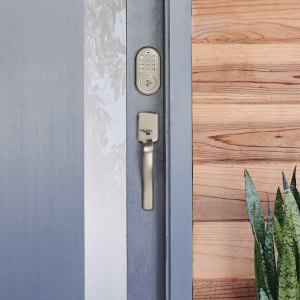 Smart locks literally open doors to the smart home experience. While keyless entry is convenient for renters and vacationers, it also boosts efficiencies and security around access for managers and owners. Our customers can continue to select from an array of popular Yale smart locks equipped with the latest 700 series Z-Wave tech that enhances reliability, security, and simplifies installations. But all the advanced tech on the inside won't stop corrosion on the outside – a common issue for coastal properties that our customers manage. To help extend the life (and stretch your investment) of smart locks, we partnered with Yale to offer a coastal grade version of the popular Yale Push Button Deadbolt lock, now resistant to corrosion. 
"Earlier this year, we made an investment to switch all of our locks over to PointCentral and it has helped us tremendously with controlling guest and vendor access, as well improving the efficiency of our company overall." – Benchmark Management
Support for New Security Panels: 2GIG EDGE and IQ Panel 4
For customers who want to have a security system to either remotely monitor their rentals from afar or offer an additional peace of mind to residents, we're excited to have two industry-leading options to choose from: Nortek's 2GIG EDGE and Qolsys' IQ Panel 4 both work with PointCentral.
Flexible Workflows: One-Click Move-In and Move-Out
To make moving residents in and out as easy as possible, we introduced One-Click Move-In and Move-Out for both customers who use integrated property management software and those who don't. While we help reduce headaches by automating these common workflows, we also make sure our platform is flexible for property management staff when they need to make manual updates. 
"PointCentral really understands our industry and how important things like property access are. Working with PointCentral has been a great fit for our company and our only regret is not making the change sooner." – Destination Amelia
New Partnerships: IQWare, RDP, Hostfully
We realize how important property management software is to our customers so in addition to partnering with all the major providers, we continue to expand our partnership ecosystem to help our customers work more efficiently. This year, we launched integrations with IQware, Resort Data Processing and Hostfully to streamline the guest check-in and check-out processes, plus enable users to take advantage of energy savings with occupancy-based thermostat rules for vacant vs occupied properties. We also added a new report to help customers track any discrepancies in resident information between their property management software and PointCentral (currently available for Yardi and RealPage users).
"PointCentral has been a gamechanger for our growing business. We were looking for a cutting edge technology partner that aligned with the smart home trends that are the future but was also able to interface with our property management software." – Lilmar Properties
3G to LTE Required Updates: Z-Wave Backup and Restore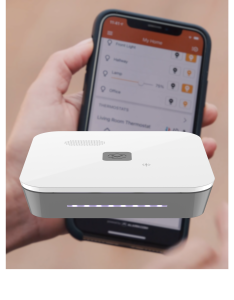 As the 5G revolution ramps up, we're getting closer to the required phase out of 3G by primary cellular carriers, including AT&T and Verizon. To help our customers prepare for this change, we launched Z-Wave Backup and Restore. This saves technicians or property maintenance hours when they're switching out old smart home hubs because they have a backed up copy of the resident's account and can restore it to the new hub without having to re-add the smart home devices, resend smart lock codes, or force residents to re-create automation rules and schedules. You can think of this as backing up and restoring all of your iPhone data from the cloud when you get a new iPhone. 
As we look forward to 2022, we want to thank our customers, partners, and dedicated team members for being part of the PointCentral family. Cheers to achieving more in the new year and beyond! 
"It has been a great experience all around, during the installation and setup process. Their team, including the Support team, have been great. I have and continue to recommend PointCentral to others." – Lighthouse Point Condos
Contact us to find out more about how our property automation platform and smart home solutions can help your short-term or long-term business.