The year 2020 was about continued innovations, as PointCentral further expanded its platform to help property managers improve their operational efficiencies, protect their assets and maintain residents' satisfaction. It was an unprecedented (yes, we said it again) year that impacted everyone personally and professionally, which meant we needed to adapt and focus on innovating to help our customers succeed among the sea of change.
From new partnerships with leading multifamily property management systems, new hardware integrations, and app enhancements, to delivering a seamless curb-to-couch experience for our customers — we have definitely achieved a lot. Here are some of this year's highlights.
Intercom Upgrades for Enhanced Convenience and Security
Connected Retro
We became the first one-stop-shop for smart intercom solutions designed specifically for the rental property market. Our in-house solution, Connected Retro, helps property managers upgrade their existing telephone-based intercoms into connected intercoms, within minutes. No costly rip and replace of hardware; just a quick and easy retrofit that provides a modern, more convenient experience for residents, staff, and vendors. Residents can create smart keys (access codes) for their visitors while property managers maintain control with an audit trail of smart key usage, for up to 1 year. 
PointCentral + ButterflyMX
Properties that are looking to install the smart, video-based ButterflyMX system and those already using the system would be delighted with the integration of ButterflyMX's commonly used resident controls into the PointCentral app. Residents can easily manage their smart home and access ButterflyMX to receive video calls and buzz open the front door from a single app; no more juggling between apps! Learn more here.
Empowering Property Managers to Boost Efficiencies and Residents' Satisfaction
Visitor Smart Keys — Create And Share From The App
Smartphones have become so essential to our daily lives that they're practically attached to our hands 24/7, so we've continued investing in mobile technology innovations to make property management more efficient and residents' experience more convenient and satisfying. One such innovation is the mobile app smart keys, which residents can use to add visitors, assign random access codes, and set schedules for guests like dog walkers. 

Largest Ecosystem of Property Management System Partners
Our list of 20+ property management system integrations has grown longer with the addition of a few more partnerships with leading players in the market. We're happy to toast to rewarding partnerships with Entrata, ResMan, and Appfolio. These latest integrations will help property managers take control of their energy costs by reducing HVAC misuse in vacant units, their work schedules through more efficient coordination of work orders, and property turn-overs with automated move-ins and move-outs. 
Login Permission Templates
Property managers have a lot on their plates day in and day out — supervising staff and vendors while ensuring their residents' security is often a tricky endeavour. With login permission templates for single locations and multiple properties, managers can quickly set up access permissions for a variety of roles — maintenance workers, contractors, employees — and reduce human error, which could turn into a liability concern.
Battery Level Reporting
Fixing issues before they happen isn't easy but doing so can mean the difference between losing or renewing a resident. Batteries are ubiquitous at short-term and long-term rental properties — they power thermostats, windows, doors, water sensors, and smart locks — and keeping track of each and every one of them is no easy task. That's why we've launched the Battery Level Report, which goes straight to a property manager's inbox and provides them with monthly reports that show battery levels across all devices and units. The Battery Level Report allows them to be more strategic about battery replacements so they can work more efficiently while keeping residents happy. 
More Smart Lock Options
Speaking of smart locks, we continue to expand our integrated hardware ecosystem, so property managers can choose what works best for their properties. Our latest addition is the sleek Yale Assure Lock for Andersen patio and entry doors. Other smart lock options include the purpose-built Yale nexTouch sectional mortise lock, the Interconnected Lockset for indoor use, and the Yale Pro SL Key-Free Deadbolt for maximum safety. 

Providing The Tools To Protect Property Assets
Activity Reporting
Being aware of what's happening at your properties is vital, so we've made keeping track of activities more convenient and organized. With the help of the Extended Activity Report, property managers can quickly access activity history, sort through data, and find answers by using a wide range of filters. 

Continued Investments in Unattended Showings for Easy Self-Tours 
Now more than ever, prospective residents are looking for self-guided tours of apartment and home rentals that work with their schedule. With Unattended Showings, prospects can book a tour online, get verified, and receive a scheduled access code. Property managers can ensure property security and make their clients feel at ease, increase showing hours, and lease homes faster. This year, we added a Notifications feature to help property managers stay in-the-know about upcoming reservations of their vacant units. Learn more about our Unattended Showings solution.

Next-Gen Z-Wave Water Sensor
Water leaks can quickly turn into costly damage. We launched the latest Water Sensor technology to make it easier for property managers to ensure that their properties are leak-free. It comes equipped with Z-Wave technology's SmartStart install and a new mechanism to easily swap between rope and probe extensions. The sensor detects leaks and reports temperature. When paired with Alarm.com's Smart Water Valve + Meter, one can enable automatic shut-off of water in the event of a leak.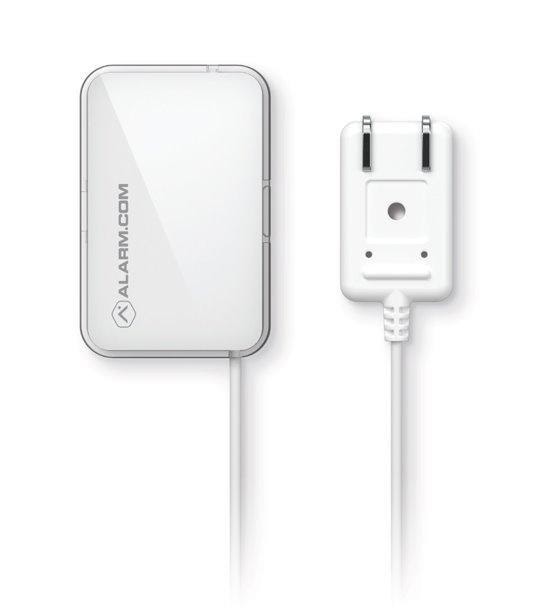 With 2021 in full swing, we look forward to continuing to collaborate with our service provider partners and property management customers. Here's to boosting operational efficiencies, protecting property assets, and delighting residents or guests!
Check out our end-of-year infographic here for more details. And for a free demo of how PointCentral can help you manage your property, click here.