Self-Showings Made Easy
From instant streaming of online entertainment and same-day delivery of products, to on-demand transportation and instant customer service, today's modern consumer is more driven by convenience than brand. They want it now. They want it easy. Research from SalesForce revealed that, by 2020, 45% of consumers will switch brands if a company doesn't anticipate their needs. Property managers who don't adjust to this instant-gratification culture will find themselves losing out to property managers who do. The introduction of PointCentral's Unattended Showing is giving property managers the self-showing tools they need to satisfy consumers and stay ahead of this trend.
Why Make Your Customer Wait?
Over 40% of U.S. adults have searched for an apartment in the last two years, yet 4 in 10 have passed on it because they couldn't find time to see it. Some prospects try unannounced visits to a leasing office, but 30% who do so find the office closed. While many realtors rely on open houses, only 4% of buyers use them. Most prospective renters or buyers of a property have to find a time that is convenient to both them and the property manager, wait for that time to arrive, and tour the property with a salesperson in tow.
Enter the new approach to self-showings, the Unattended Showing app from PointCentral, a subsidiary of Alarm.com. Now, a prospect can instantly book a tour and receive immediate access to a property, allowing the prospect to view the property on their schedule, at their pace, on their own.
How It Works
The prospect is driving around a neighborhood and sees a property that catches her eye.

She goes to the website listed on the yard sign to get more details about the property.

She clicks "Self Tour" for that property and selects the time she would like to visit, anytime from now to a later date.

She quickly receives an email confirming the time, along with the unique, temporary PIN code for the smart lock.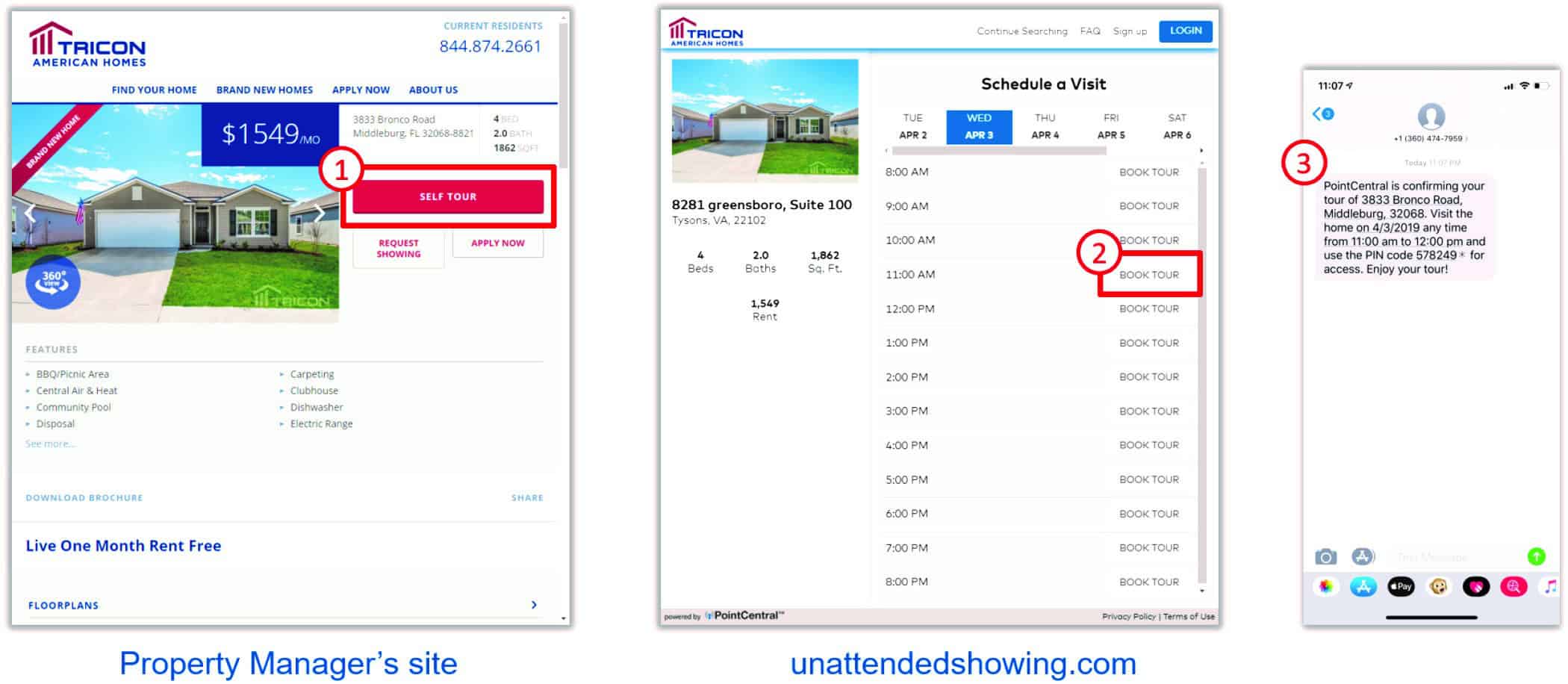 As soon as she enters the property, the manager is notified that the prospect is in the property. An optional in-property camera captures an image of the prospect in case any problems arise. Upon exiting, the lock code is automatically cancelled, and another notification is sent to the property manager, enabling instant follow up and the opportunity to get a commitment from the prospect.
PointCentral's Unattended Showing solution is designed to blend visually with the property manager's site so that when the prospect clicks Self Tour, it is not immediately apparent they have jumped to PointCentral's Unattended Showing website since it incorporates the property manager's logo and color scheme.
The Unattended Showing app amplifies both convenience and brand, positioning the property manager as a company that is staying current with technology and focusing on customer satisfaction.