Free up more of your daily and weekly schedules, check off more items on your to-do list, and confidently ensure your home's security with PointCentral's enhanced user management tools. 
Expecting a delivery? No more rescheduled deliveries or packages left unattended. Residents no longer have to find a schedule that is mutually convenient for them and their dog walkers. Do you have family or friends arriving for a stay, but you need to work and their flight puts them at your door mid-day? No need to coordinate schedules to let them into your home. You can also give your housekeeper, repair technicians, and other important visitors scheduled access to your home for better convenience and security. 
Duplicating keys and using obvious hide-a-keys are quickly becoming a thing of the past. Even key fobs and key cards have their security drawbacks when temporary access needs to be given to other people. Smart lock options and keyless access is the smartest solution. With a mobile app, smart home management is even smarter and safer.  
How Does It Work?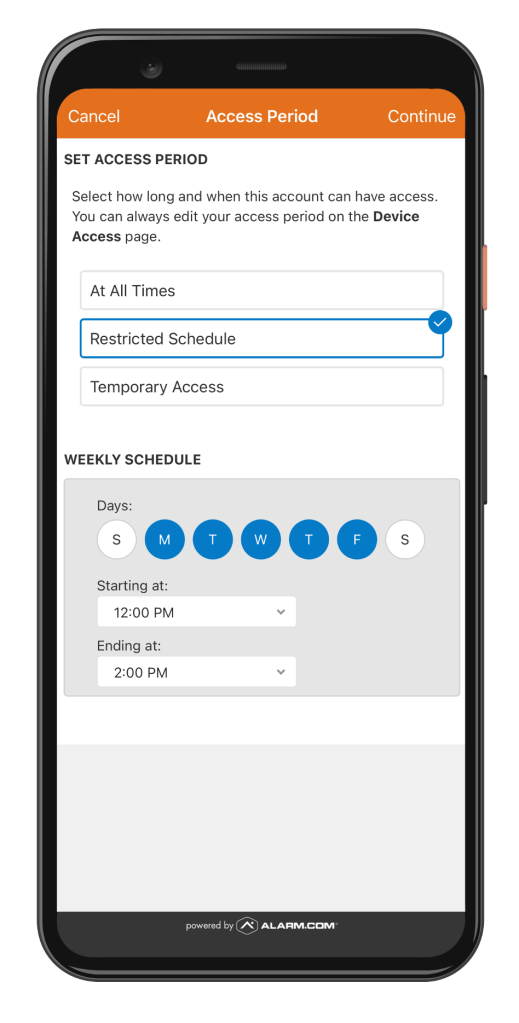 The mobile app provides users with the convenience of managing their home through their smartphone — whether they're at home or on the go. Especially when they're away and need to provide other people with temporary or scheduled access to their home, residents can enjoy the increased convenience and security of managing access codes directly from their phone.
The new app features allow residents to:
Add, remove, or edit users from the mobile app.

Set scheduled home access, such as for housekeepers, dog walkers, delivery people, or visiting family or friends. 

Randomly generate access codes for increased security. 

Include an email address when adding a user so they can send the code directly from the app.
These features are easily accessible from the Users Page, both on the mobile app and web interface. With improved control over non-resident home access, users can enjoy a greater sense of security and have less to worry about when they're away from the property.  
With PointCentral's cloud-based software, residents and property managers can start creating access codes right away; no app upgrade required. 
Learn More About PointCentral's Enhanced User Management Tools
PointCentral's Smart Home Management solutions are backed up by a user-friendly, innovative, and secure cloud-based software that allows users to confidently and securely access and manage their smart home system using any web-enabled device.
PointCentral's continuous technological innovations prioritize improving ease of use, efficiency, and security. With the latest release enabling guest access management from the app, both residents and property managers can be more hands-free and worry-free.
If you're renting a property that uses PointCentral, make sure to download the resident smart home app in Google Play or the App Store.